Policy Statement by New Chairperson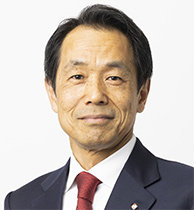 The Life Insurance Industry to Fulfill its Mission toward Realizing a Sustainable Society Full of Hope and Security
For over 140 years since the birth of the modern life insurance industry in Japan, life insurers have been committed to providing security and better quality of life for citizens in the spirit of mutual aid, even in the aftermath of the Great Kanto Earthquake and two World Wars, as well as major natural disasters in recent years such as the Great East Japan Earthquake and the Covid-19 pandemic.
Today, the life insurance industry is striving to fulfill its mission of being the social foundation that complements the social security system, offering insurance products and making payments of over \1.2 trillion on claims totaling 11 million cases for hospitalization and other Covid-19 related benefits through a network of over 240,000 direct salespersons and approximately 80,000 agencies nationwide.
Japanese society is currently undergoing a profound transformation, largely driven by the advancement and prevalence of cutting-edge technology, as well as rapidly diversifying individual lifestyles in the wake of the pandemic, coupled with major structural changes such as the aging and declining population. In addition, responses to climate change and other related initiatives for realizing a sustainable society are becoming major global norms. We are required to work on these longer term issues as their relevance further increases.
Amid this drastically changing environment, the life insurance industry will contribute to solving these various social issues by maintaining the trust with customers and serving the interests of society as a whole going forward. To achieve this, the LIAJ will focus on the following three key pillars of action for this business year.
1. Promoting Our Customer-first Business Operations to Realize a "Safe and Secure Society"
To deliver a constant peace of mind to customers and to continue to serve the well-being of society, the life insurance industry's focus on promoting its "customer-first business operations" in the utmost interest of customers, ranging from our member companies developing products and services that meet customer needs, as well as providing relevant information and sales recommendations to offering post-sales follow-ups and supporting payment processes, is important.
From this perspective, we will continue to support strengthening member company efforts in line with the recently published "Viewpoints for Further Enhancement of Compliance Risk Management Structure related to Direct Salesperson Channel." We will also further support the agencies' customer-first business operations through the Agency Operations Quality Review launched last year.
We will continue to proactively address issues facing the industry and support member company initiatives, accurately capturing the needs of customers and society as to pursue their greatest interest going forward.
During the pandemic, the life insurance industry made the utmost effort to fulfill its social mission as customers faced the threat of infection and related impact on their livelihood. We are planning to summarize the initiatives taken by the industry as a report to utilize our pandemic experience for the future.
Moreover, in the 100-year life era, it is crucial for each individual to have the opportunity to deepen the understanding of the insurance system and self-help and consider how to cope with various future risks at an early stage of life.
We have promoted initiatives that deepen the understanding of life insurance and life planning among a wide range of people from primary school children to seniors by working with the Japan Institute of Life Insurance to provide educational materials, arrange lecturers and sponsor a competition focusing on high school students presenting on life insurance business. For this business year, we will enhance our partnership and collaboration structure across industries to more effectively improve financial literacy among the youth.
2. Contributing to Solving Regional Societal Issues to Realize a "Society Full of Hope"
The falling birthrate has huge socioeconomic effects combined with the declining and aging population. The LIAJ has taken various initiatives, such as supporting people with dementia and assisting people to balance their work and childrearing responsibilities based on a society with fewer children and more seniors.
We believe that nurturing the next generation responsible for Japan's future is an important topic to be taken on by society as a whole. Faced with the urgent challenge of the falling birthrate, we are seeking to contribute to the momentum of supporting childrearing throughout society by highlighting the initiatives taken by the LIAJ and its member companies responding to the falling birthrate, as well as re-emphasizing the responsibility of the life insurance industry.
We will also focus on childrearing in local communities by developing guiding materials on topics related to raising children and protecting children's rights, as well as communicating our initiatives both within and outside the industry.
Furthermore, the LIAJ and its member companies have been proactively engaging in activities contributing to local communities from the past, and we aim to enhance our external communication on this matter.
In addition, amid the rapid progress of digitalization, it is essential to consider the potential impact on customers and businesses, as well as to be aware of the latest, evolving digital technology as to continue to provide services that meet customer needs. From this perspective, we will provide relevant information through surveys and workshops on decentralized digital society to support member companies on digital transformation.
3. Contributing to Solving Global Environmental Issues to Realize a "Sustainable Society"
The importance of taking concrete actions such as de-carbonization is increasing to realize a sustainable society, and we understand that the life insurance industry, as an institutional investor and a business member forming a part of society, will need to contribute further to achieve this objective.
As an institutional investor with total assets of over \400 trillion, the life insurance industry has been contributing to the development of Japan's economic activity by enabling industry development and economic vitalization through investing in infrastructure that support livelihoods as well as in growth areas.
We will continue to contribute to the improvement of investee company value and sustainable economic growth through ESG investment/financing and stewardship activities.
The LIAJ has also set priority areas to achieve the Sustainable Development Goals (SDGs) in the life insurance industry by organizing trend surveys, symposia and other activities on topics such as climate change and biodiversity. For this business year, we will promote member company efforts by drafting a booklet covering trends in select topics and organizing workshops.
We will also share our initiatives to realize a sustainable society through dialogue with member companies, as well as proactively communicate our industrywide efforts at international conferences.
In addition to these three pillars of action, we will continue to foster an environment that maintains the trust of customers and to ensure the sound development of the life insurance industry.
With regard to taxation, we will continue to press for the expansion of the life insurance premium deduction system to support and promote peoples' efforts to obtain the various types of private insurance coverage that they need. We will also provide active feedback on international financial regulations, international accounting standards and domestic regulations to ensure that they fully consider the unique characteristics of the Japanese life insurance industry.
Finally, the LIAJ will consider potential impacts on the market, and express its views as necessary on issues regarding Japan Post Insurance, including the expansion of its scope of business and increase in the maximum insurance amount, under the belief that a level playing field is essential for improving consumer benefits in the mid-to-long term.
These are some of my commitments as I assume the role of Chairperson at the LIAJ. I will make my utmost efforts to fulfill the mission of the life insurance industry this year, so I would highly appreciate your continued support and cooperation.
21 July 2023
Hiroshi Shimizu
Chairperson
The Life Insurance Association of Japan