Policy Statement by New Chairperson
Working toward Our Future Well-being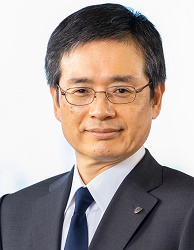 The novel coronavirus (COVID-19) pandemic has triggered a wide variety of changes with huge impact on both individual lifestyles and business activities.
The life insurance industry has reinvented the points of contact with customers as member companies continue to expand the delivery of contactless services through various digital tools. During the pandemic, our industry has also continued its commitment to fulfill the social mission of life insurers, providing industry-wide benefits for over 2.35 million cases of hospitalization due to COVID-19.
As an important precondition for fulfilling this role, we also continue to focus on promoting our customer-first business operations, and making sincere customer accommodation, so as to offer services that meet their needs.
The COVID-19 pandemic has also raised many health concerns and caused changes in public awareness, expansion of teleworking and the diversification of consumer behavior. The values and lifestyles of customers had been changing gradually even before the pandemic with the advent of the 100-year life era. The COVID-19 has substantially accelerated such trends.
Against this backdrop, the Priority Policy Program for Realizing Digital Society, adopted by the government, aims to achieve a society where individual citizens can realize various forms of well-being by selecting the services that meet their needs, with the help of digital technology. In the life insurance industry, our member companies are also seeking to promote the use of digital tools and non-face-to-face procedures for an increasing number of services. Coupled with the creation of new, primarily data-driven services, we are hoping to help customers achieve their well-being by satisfying their diverse needs.
Furthermore, it is imperative to build a sustainable society if we are to help customers achieve their well-being both now and in the future. With its various impacts on people's living and ecosystems, climate change driven by global warming is increasing the urgency of taking specific actions to create a sustainable society, including decarbonization. The life insurance industry is ready to make further contributions not only as an institutional investor, but also as a business member of society.
In this light, The Life Insurance Association of Japan (LIAJ) will focus on the following two pillars of action throughout this business year.
1. Promoting Our Customer-first Business Operations
The use of digital technology, which has been further advanced in the COVID-19 pandemic, has enabled the provision of consulting services through a variety of points of contact, improving convenience for customers. It is most important to ensure a relationship of trust with customers, as well as to further promote the customer-first business operations in order for the life insurance industry to provide the unwavering peace of mind through these various points of contact.
In view of the changes brought about by the COVID-19 pandemic, including in our points of contact with customers, and in recognition of the need for upgrading for compliance risk management to build a relationship of trust with customers, the LIAJ will be further considering how best to help member companies improve their efforts.
2. Seeking to Achieve Future Well-being
(1) Playing our part in realizing a digital society
The accelerating digitalization of society at large with the COVID-19 pandemic has prompted the social security system to take measures to increase efficiency and upgrade the level of services through technological innovations, including the digital transformation of medical and nursing care.
As digital technology connects a wide variety of things more efficiently, we believe that it is important for the life insurance industry, playing a complementary role to social security, to deliver a peace of mind more efficiently to customers through its products, capturing the trend toward digitalization in the area of social security.
Accordingly, we will continue our research on cases where digital technology has been adopted for social security and private insurance in other countries, as well as on cases of data-driven procedures including those under the Individual Number System in Japan. In light of the findings of such research, we will consider the possibility of offering more effective life insurance services as well as providing proactive outreach.
(2) Playing our part in realizing a sustainable society
As a sizable institutional investor with total assets of approximately \410 trillion, the life insurance industry plays an important role in the Japanese economy, contributing to industrial development and economic vitalization through investment and financing. Going forward, we will continue to help maximize the corporate value of companies we invest in, and contribute to sustainable economic growth through ESG investment/financing and stewardship activities.
The LIAJ has also set priority areas to achieve the Sustainable Development Goals (SDGs) in the life insurance industry, organizing symposia and other activities in recent years. Although our efforts thus far have focused on climate action, the SDGs require us to meet a wide range of challenges including on human rights and biodiversity. In this context, the LIAJ will revisit the issues to be addressed during this business year, based on a sustainability-related trend survey of the roles that can be played by the life insurance industry in response to the changing environment.
(3) Building infrastructure for sound business development
Even amid an age of unprecedented uncertainty, we will continue to work on building infrastructure to retain the trust of customers and ensure the sound development of the life insurance industry.
With regard to taxation, we will continue to press for the expansion of the life insurance premium deduction system to support and promote efforts by the public to obtain the types of private insurance coverage that they need. In terms of accounting, we will provide active feedback on international financial regulations, international accounting standards and national regulations to ensure that they fully consider the unique characteristics of the Japanese life insurance industry.
Finally, the LIAJ will consider potential impacts on the market, and express its views as necessary on Japan Post Insurance issues, including the expansion of its scope of business and increase in the maximum insurance amount, under the belief that a level playing field is essential for improving consumer benefits in the mid-to-long term.
These are some of my commitments as I assume the role of Chairpersonship at the LIAJ. Building on those commitments, I will make my utmost efforts to address the challenges throughout the year to ensure the well-being of our customers. I would highly appreciate your continued support and cooperation.
15 July 2022
Seiji Inagaki, Chairperson
The Life Insurance Association of Japan